fastgt home &nbsp &nbsp project &nbsp &nbsp griggs &nbsp &nbsp damage control &nbsp &nbsp documentation &nbsp &nbsp movies &nbsp &nbsp links




THE Project -- Page 23


skip to page => 1 2 3 4 5 6 7 8 9 10 11 12 13 14 15 16 17 18 19 20 21 22 23

---

May 25, 2002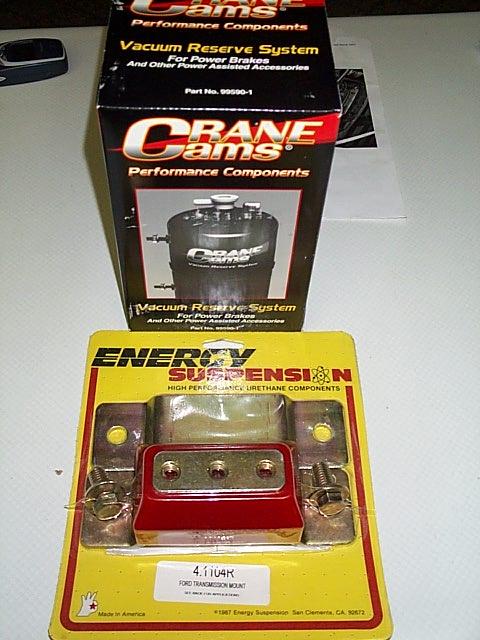 Got some new parts in the mail yesterday. I noticed the engine was sitting in the car tilted back a little more than I liked, so in inspection, I think I may have found the problem. The transmission Xmember mounts are a little worn, and where they bolt to the frame, are a little bent. Time to get the welder out, and a new mount from Energy Suspension. I picked up a vac canister as well. Have to see if I like it or not.
-Jim
---


June 8, 2002

Today was a good day. After running 11.8s at CFR, then the next weekend, heading to Bowling Green KY, for the 6th annual #Ford GTG and running 11.9s in 95 degree, 100% humidity weather, I finally managed to set the GR-40 up for the street. I redid some of the alignment checks, set the rear panhard up a little better, adjusted the bumpsteer a lil better, put the front anti-sway bar on, and went for a spin. WOW!! The car is so smooth and responsive, it is an absolute pleasure to drive. The cam is a little bit big for the street, but the vac can does the trick there, and helps the brakes out a good bit. I would recommend it to anyone still using power brakes on a high-duration cam'd car. The Orbital battery has completely eliminated any starting problems I ever had, and the car just starts and runs, no matter how heat soaked the motor. The AC even pumps out the cold dry stuff. If you cannot tell, I think I am about as happy with the car now as I have ever been since I first bought it!

I picked up a set of ROH 5 lug 17x8.5 with 275-40-17 Dunlop D40M2s... The Baer brakes (13"/12") go on this winter :)

-J



---
May 6, 2003
Wow, been a while since I updated! Anyway, the car is running well. All I did to get it ready for the season was to change the oil. Kind of nice for once :) I also picked up a new Flaming River manual rack. If you will recall from earlier in the project, I already had a Flaming River rack installed, well, I decided I didn't like the ratio for street driving. The new model (FR1520) is a faster ratio (15:1 vs 18:1) that matches the origional GT. Even though it may be a little harder to turn with wide meats on the front, the overall drivability has increased a lot. It was the right thing to do.
The next mod will likely be the brakes, but as of right now, I am not sure when that will be. I think I will just drive the car and enjoy it for a while!

Jim
---
---