fastgt home &nbsp &nbsp project &nbsp &nbsp griggs &nbsp &nbsp damage control &nbsp &nbsp documentation &nbsp &nbsp movies &nbsp &nbsp links




Current Project -- Page 19


skip to page => 1 2 3 4 5 6 7 8 9 10 11 12 13 14 15 16 17 18 19 20 21 22 23

---

July 4th, 2001


No pictures to look at really, unless you want to check out the damage section. You can do that here . At the GTG, my cam continued to "lose" lash, so I pulled the intake off, valve covers, etc, and pulled a couple lifters out. The lifters looked just fine, and taking a flashlight and glancing at the cam lobes, they looked fine too. What the heck was going on then?! Well, I drained the oil, and found metal in it, a lot of metal. CRAP. No racing at GTG this year. The car went back on the trailer, and I proceeded to just hang out the rest of the weekend. GTG was a great time! Thanks to all those that came and made the 5th annual a whopping success.


I got the car home, and unloaded it from the trailer, pulled it in the garage, and let it sit for a week.. I had other things that I needed to catch up on. When I got around to it, I pulled the front cover off, and pulled the cam out WTH?!!!. The lobes were ok, but the journals looked like somebody had taken a grinder to them. 4 of the 5 looked like they were ground down 1/8 of an inch :( Also, when I pulled the cam out, one of the bearings came out with it... this is not good. Again, here are the pics .


This morning, I pulled the block out of the car, and felt around the remaining cam bearings and cam bearings surfaces. Ouch. The block is likely toast, unless somebody wants to machine it and put oversized bearings in it, or maybe roller bearings. It looks like the oil hole in the front bearing may not be lined up right, but it may have spun some too. I am going to leave that together, and take it to the machinist for him to inspect. Then with me there, we'll pull em out (what's left) and see if they spun, or what else we can see. In the meantime, I am also considering taking the cam to a metalurgist, and have it checked to make sure it was hardened correctly. I have a feeling that it may still be the fault of the cam itself. The exhaust pattern was 10 degrees off when degreed. I just wish I wouldn't have used it when I found that out. Live and learn. I just added a link at the bottom of page 5 of the damage section... it just has more pics of the block and bearings from today.


So, I am down for a while, and need to figure out exactly what I want to do. I think I have figured it out though. But don't worry, check this site often. I am not done yet.


-Jim



---
---

Now that all of that is behind us like a bad dream..... (well, not quite yet, but life goes on).....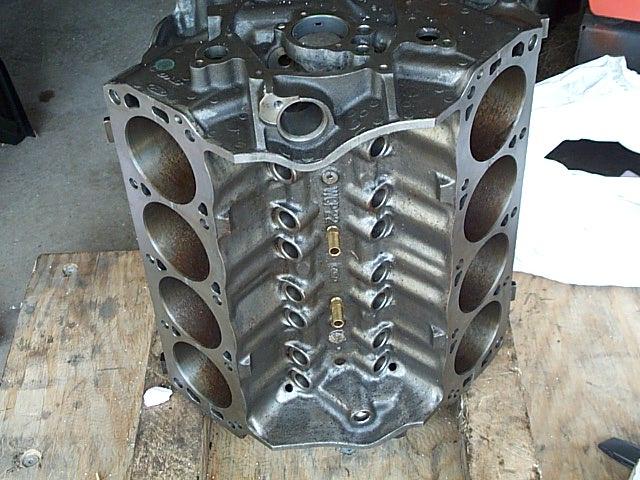 July 31, 2001

Well, it's no secret anymore, not that it was much of one. Here is the new block. We're gonna put some power out. It's looking like either a 402 or a 408 with 6.2 rods and pistons for 10.9-11.0:1 area of compression. This also means that my near new set of Eagle H beam 5.956 4340 rods will be forsale. Time to save the pennies!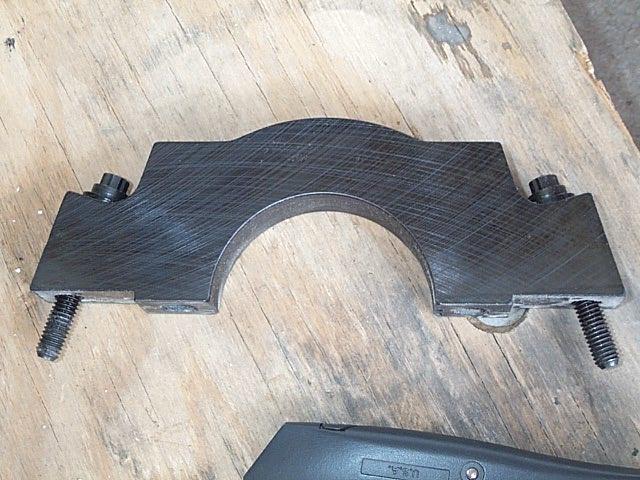 Guess I didn't mention it will have 4 bolt mains did I?


---
Aug 2, 2001

Well, I did some calling around today, found a 1969 351w that runs for 250 (couldn't believe my luck). I should be able to pick it up next week about the 6th or so. I can't wait. New oil pump, new cam and lifters, and timing set are on their way. With this combo and my existing heads and intake, etc, I will have a nice inexpensive engine I can finish the season with. Then the monster goes together this fall and over the winter. This works out real well, as there are other things that need my attention, but I still want to drive the car a little.

-J
---
Click here for the next page
---